| HOME | TRADITIONAL RETAIL MODEL| NEW ONLINE DIRECT SALES MODEL | CONFLICT | ETHICS | BUY LOCAL | DIRECTORY
|
JOIN US
|
DOWNLOAD
| LINKS |
ABOUT US |

CHANGE STARTS WITH YOU!!!

1.) CONSUMER AND LOCAL GOVERNMENT STRATEGIES
Organize and participate in Buy Local Campaigns. This helps to save our communities. Click on the tree below to see Downtown Boulder's "Love the Local" campaign that encourages people to go to downtown to shop, eat and play. Find examples of other local campaigns and government programs here.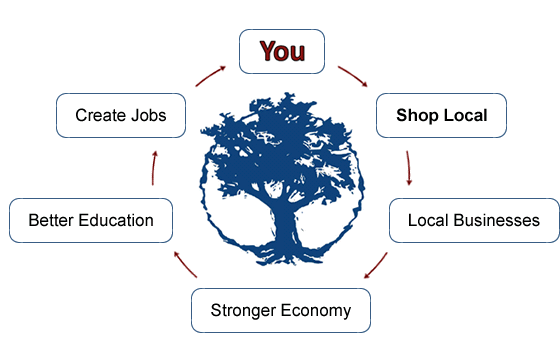 2.) MANUFACTURERS' STRATEGIES TO HELP RETAILERS STAY OPEN FOR BUSINESS
While market evolution is natural, precautions should be taken to ensure that the market remains a mutually beneficial environment for consumers, manufacturers, and retailers. Manufacturers should embrace change, technology, the Internet, and e-commerce, and they should do so without drastically disrupting the supply chain. By implementing a few retailer-friendly strategies into the manufacturers marketing plans, brands maintain a strong presence in the online community while supporting the retailer network. Some of these strategies may include:
Do Not Sell Directly To Consumers
Manufacturers selling direct to consumers eliminate the retailers in your local community. This affects profitability and long-term retailer survival. Support your community by not competing with your retailers.

Develop And Enforce A MAP Policy
Enforcing a MAP policy safeguards retailers from self-destructive, unsustainable competition; thus maintaining profitability in the supply chain.

Develop Brand Awareness Tools
Increase brand awareness by providing retailers with Internet ready images, high-resolution print ready images, technical product specifications, product descriptions, informational videos, etc.

Brand Website: For Education And Consumer Business Referral, Not Direct Consumer Sales
Focus on educating consumers about your products. Direct them to retailers where they can make their purchases.

Brand Website Link
Provide retailers with specialized links to the brands' website; orders placed will be redirected to the respective retailer. This can be a complimentary service, or provided at a low cost to the retailer.

Drop Shipping Program
Ship directly to consumers on behalf of the retailer. A comprehensive drop ship program reduces cost, consumer wait time, allows for special consumer requests, and increases the merchant products without requiring merchant storage space or an upfront investment.

Lead Referral
Refer leads generated from the brand website, email marketing or advertisement to the nearest retailer.

Order Referral System
Establish an online referral system that automatically sends consumer orders placed on the brands website to a near by retailer.

Raise Awareness, Become Involved
Education: know the impacts of selling directly to consumers.
Alliance: become a member of www.RetailersProtected.com.
Awareness: download the complimentary, official RetailersProtected.com seal as a statement of your support and use it on advertisements, media and websites.
Discuss: Be a part of national forums and discussion groups to continue finding ways to protect retailers.

3.) RETAILERS' STRATEGIES TO STAY OPEN
What can retailers do to protect themselves from market elimination? The first step is to remain competitive in reaching today's on-the-go consumer. Consumers will naturally overlook those who do not make this transition. A few strategies may include:

Do Not Invest In Or Stock In Brands That Sell Directly To Consumers
Invest in brands that support you and your business by not competing with you for your customers.

Develop E-Commerce Friendly Websites For Your Store
If you do not already have one, create a website with an online ordering system. This makes your business more accessible 24/7 by today's Internet generation.

Develop And Implement Store Mobile Applications
Develop a mobile application that allows consumers to shop and make purchases from anywhere.

Move Towards Integrated Technology Systems
Integrate all of the necessary systems into one easily manageable program. Systems to integrate may include: website management, inventory, sales, accounts payable, and many other accounting functions.

Establish Private Label Programs
Establish a private label program. This strategy is recommended for larger retailers. "Even though manufacturers may sell an identical branded version, it has a different barcode. So a customer scanning the barcode in a store won't find any comparable product online." Quote by David Schnider, at schniderlaw.com

by:
Rodrigo Cano, BBA, MBA
Retailers Protected Council
Founder / President
Author / Publisher
rodrigo@retailersprotected.com

comments powered by
Copyright © 2014 Rodrigo Cano. All Rights Reserved.